Good-Bye 3rd Years
Where can you find our current 3rd year residents after graduation? We wish them the best, but we will miss them.
Tee Adeleke
Upon completion of my residecny training, I will be embarking on a fellowship position at New Mexico Bone and Joint Institute in Alamogordo, NM. This is an opportunity that affords exposure to a vast array of disciplines including trauma, reconstruction, arthroscopy, Ex-Fix and TAR. West Penn has been nothing short of a home to me and I thank Dr. Catanzariti and the rest of my West Penn family for the opportunity to be part of something special. I look forward to continuing my education and training with Dr. Anderson and colleagues.
John Baca
I will be attending a 1-year fellowship at the Weil Foot & Ankle Institute in Chicago, IL under the guidance of Fellowship Director, Lowell Weil, Jr., DPM, FACFAS. I look forward to the opportunity to be exposed to all aspects of Podiatric Medicine and Surgery as well as clinical decision making, post-operative management, Foot & Ankle Research, and practice management.
Erica Evans
Upon completion of the residency training program here at West Penn, I have accepted a position with CHI Alegent Creighton Clinic in Omaha, NE. This is an opportunity that allows me to be 1 of 2 Foot & Ankle Specialists within a mulit-specialty Orthopedic group. There is no question that the training and preparation that I have received at West Penn has provided a solid foundation to help me success with this future opportunity.
---
Graduation Celebrations
Congratulations Tee, John and Erica!!!
---
Lisa Grant- McDonald, DPM
Congratulations to Lisa Grant-McDonald, DPM, – PGY 1 for her 1st Place win at the GME Patient Safety/Quality Improvement Resident Research Challenge held at AGH on Wednesday, May 20, 2015.
• 1st Place: Lisa Grant-McDonald, DPM – PGY-1 Foot and Ankle Resident
"Preoperative Anemia in Hindfoot and Ankle Arthrodesis"
David Caldarella, DPM and Dane Wukich, MD at the Scott Alter, DPM Memorial Lecture on Saturday, March 14, 2015 at West Penn Hospital.
---
ACFAS Annual Reception – Phoenix, AZ
Great times at our Annual Alumni Reception at ACFAS last night!
All photos may be viewed by following this link: ACFAS Reception Photos  <——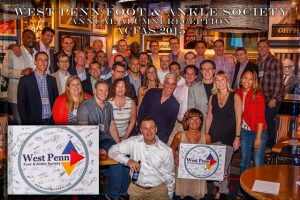 ---
Day with Alumni – pictured are Dan Shadrick, DPM and James Davis, DPM – with residents at the West Penn Hospital.
---
Scott Alter, DPM Memorial Lecture Series – January 17, 2015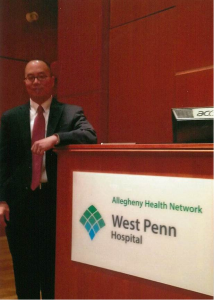 George Liu, DPM at the Scott Alter, DPM Memorial Lecture on Saturday, January 17, 2015 at West Penn Hospital.
---
Interview Social
January 16, 2015
 Quick coffee break during interview weekend @ Beehive on Carson Street
Dr. Nicki Nigro
Congratulations to Nicki Nigro, DPM, FACFAS who was elected to DMU's Board of Trustees. She will serve along with Hal Hatchett, DPM, FACFAS – the only two DPM's on the Board. Dr. Nigro was the first DMU graduate starting residency at PHP in 1989. Dr. Nigro was also part of Dr. Catanzariti's first residency class.
---
Volunteering
December 14, 2014
---
Scott Alter, DPM Memorial Lecture Series – October 11, 2014
Luke Ciccihinelli, DPM and Alan Catanzariti, DPM at the Scott Alter, DPM, Memorial Lecture on Saturday, October 11, 2014 at West Penn Hospital.
---
2nd Annual Society event – JW Marriott Phoenix Desert Ridge Resort & Spa
September 7, 2014
Great fun and great success.
---
Welcome 1st Year Residents, 2014
Lisa Grant-McDonald, DPM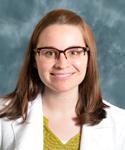 I am a recent graduate of Des Moines University where I obtained my doctorate and continue to work on a Masters of Public Health. I was born and raised in Virginia Beach, VA and I am the youngest sibling to an older brother and sister. I am very close to my family and have made it a point to spend as much time with them as I can. I attended Old Dominion University for my undergraduate education and received a bachelor's of science in biology. During by time at Old Dominion, I met my husband Micah who works as a physician assistant for a local cardio-thoracic surgery group here in Pittsburgh. Together we recently adopted a young dog named Abby. She has proven to be both a challenge and joy to co-habitat with due to her destructive and energetic nature. In my spare time I enjoy engaging in utilitarian activities and generally find pleasure in the small activities of daily living (cutting the grass, grocery shopping, walking my dog, etc.). I have greatly enjoyed my time spent in Pittsburgh and look forward to the next three years here at West Penn!
Michael Howell, DPM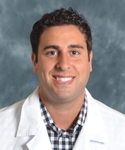 I recently graduated from Scholl College of Podiatric Medicine and am honored to be a part of a long line of astute West Penn graduates. Born and raised in Grand Rapids, Michigan, I grew up with great family support from my parents and two sisters, even surviving life as the middle child. I attended Michigan State University and graduated with a bachelor's degree in Physiology. More importantly, I consider myself the biggest sports fan for any and all Spartan teams. In general, I am a die-hard sports fanatic and will watch just about any major team or event. I recently got married to my wife, who is a Pittsburgh native and also in her first year of residency, but I have yet to turn my allegiance to any black and gold teams…so far. In my free time, I love to play golf and tennis, garden, listen to a variety of music, and attend sporting events. I am looking forward to this opportunity to train under great leadership and hope to become a successful and respectable foot and ankle surgeon.
---