Good-Bye 3rd Years
Where can you find our current 3rd year residents after graduation? We wish them the best, but we will miss them.
Osayamen Edigin
Yamen will be joining Michael Dombek, DPM, FACFAS at Ankle & Foot Centers of Georgia in Peachtree City, Georgia.
Kyle Moore
Kyle will be attending the Limb Reconstruction Fellowship at the Paley Institute at St. Mary's Medical Center in West Palm Beach, Florida.
Colin Zdenek
Colin will be attending the Silicon Valley Reconstructive Foot and Ankle Fellowship at Palo Alto Medical Foundation in Mountain View, California.
---
Graduation Celebrations
Congratulations Yamen, Kyle and Colin!!!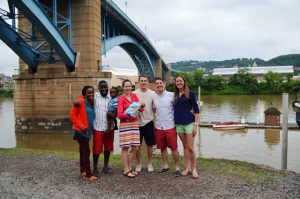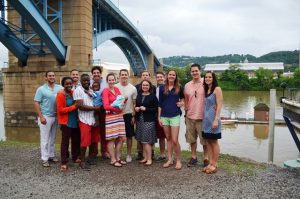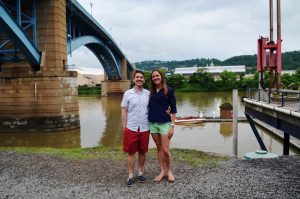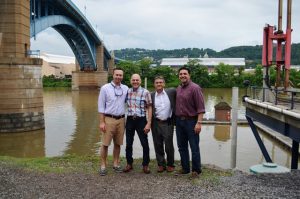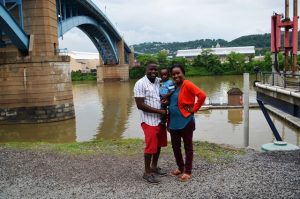 ---
Scott Alter, DPM Memorial Lecture Series
Christopher Reeves, DPM, FACFAS and Amber Shane, DPM, FACFAS
---
Scott Alter, DPM Memorial Lecture Series
Jordan Grossman, DPM, FACFAS and Matthew Hentges, DPM, AACFAS
---
ACFAS Annual Reception – Austin, TX
Great times at our Annual Alumni Reception at ACFAS again this year!
All photos may be viewed by following this link: ACFAS Reception Photos  <——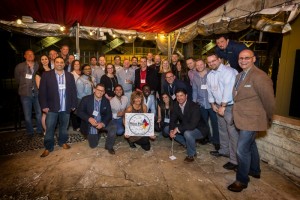 Scott Alter, DPM Memorial Lecture Series
January 16, 2016
---
PHP Reunion at Arthrex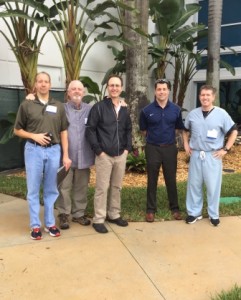 Dr. Karlock arranged a special meeting with the resident class that started in 1992. It had been over 2 decades since all 4 had been together. Their Arthrex distributors were integral in sponsoring a workshop at Arthrex headquarters in Naples, FL to facilitate this reunion. Dr's Karlock, Blitch, Keller and Cypher enjoyed reminiscing about their 3 years together in Pittsburgh and sharing clinical pearls concerning Arthrex products that they utilize in their surgical practices.
---
Interview Social
January 14, 2016
A little relaxation during Resident Interviews
---
Volunteering
December 12, 2015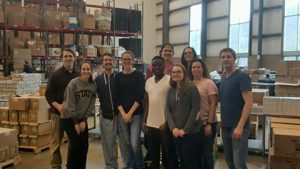 Great day of volunteering at the Community Food Bank. Packed 2500 boxes for Seniors.
---
Grant Awarded
"Lisa Grant-McDonald, DPM – PGY-2, has been awarded a Clinical Research grant from the American College of Foot & Ankle Surgeons, for "Seeking Proof – Does Charcot Reconstruction Improve Physical Function".  The grant is for $36,110.00.  Dr. Grant-McDonald will be working on the research with Drs. Catanzariti and Hentges.
Congratulations Dr. Grant-McDonald!!!
---
LRF Hoffman Circular Fixation Lecture / Workshop with Dr. LaPorta
December 5, 2015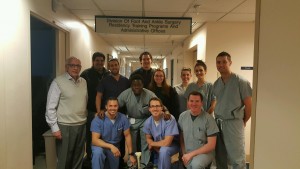 Pictured: Guido LaPorta, DPM with the residents and students.
---
Scott Alter, DPM Memorial Lecture Series
November 21, 2015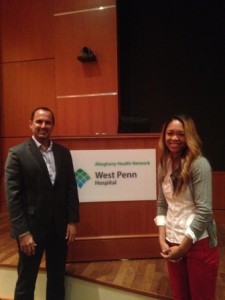 Mark Hardy, DPM, FACFAS and Adrianne Ross, DPM, FACFAS
---
Scott Alter, DPM Memorial Lecture Series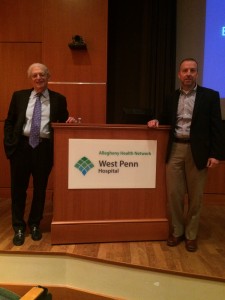 Allen Jacobs, DPM, FACFAS and Paul Dayton, DPM, MS, FACFAS
---
---
Scott Alter, DPM Memorial Lecture Series
September 19, 2015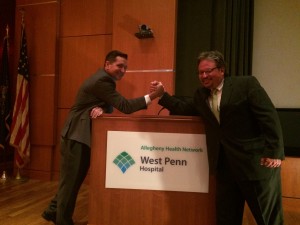 Nicholas Lowery, DPM and William Grant, DPM, FACFAS
---
Residency Event – Pittsburgh Pirates at PNC Park
September 12, 2015
Team building with residents and families. A little rain couldn't damper the good time.
---
Welcome: Matthew Hentges, DPM – New Attending Physician
Podiatrist and foot and ankle surgeon seeing patients in Bloomfield and Monroeville
Pittsburgh, Pa., – Allegheny Health Network is pleased to welcome Matthew J. Hentges, DPM, a fellowship-trained podiatrist and foot and ankle surgeon. Dr. Hentges joins the physicians of the Allegheny Health Network's Foot and Ankle Institute.
Dr. Hentges has specialty expertise in reconstructive foot and ankle surgery, complex limb deformity correction, treatment of nonunions and malunions of the foot and ankle, Ilizarov external fixation, Charcot foot and ankle deformities secondary to diabetes mellitus. He offers a full-spectrum of podiatry and foot and ankle surgical care to patients of all ages from pediatrics to adults.
He received his medical degree from the Des Moines University College of Podiatric Medicine and Surgery in Des Moines, Iowa. He completed his residency at West Penn Hospital, where he served as chief resident during his final year. He completed his fellowship at the International Center for Limb Lengthening at the Rubin Institute for Advanced Orthopedics, at Sinai Hospital of Baltimore in Maryland. He is a member of the American College of Foot and Ankle Surgeons and the American Podiatric Medical Association.
Dr. Hentges is well-published, especially in the field of reconstructive surgery. He has published peer-reviewed work on the treatment of complex foot and ankle pathologies, such as techniques in osteotomies, internal fixation and external fixation.
He has medical staff privileges at West Penn Hospital and Forbes Hospital. He is welcoming new patients at The Foot and Ankle Institute at West Penn Hospital.
---
Welcome
WPH Foot & Ankle Surgical Residency welcomes the incoming 1st year residents: Anthony Chesser, Tim McConn and Sham Persaud. So glad to have them join our family.
Anthony Chesser, DPM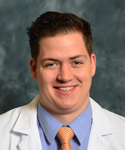 My name is Anthony Chesser. I was born and raised in Rock Island, a small community in Illinois. I was fortunate enough to play collegiate Division III football and earn my Bachelor's degree in Biology from Augustana College in 2011. I then went on to attend the William M. Scholl College of Podiatric Medicine at Rosalind Franklin University in North Chicago, Illinois.  I married my high school sweetheart and love of my life, Anne, in 2012. In my free time, my wife and I love walking the beautiful parks in the Pittsburgh area with our dog. I'm grateful and excited for the opportunity to work at the Foot and Ankle Institute of Western Pennsylvania.
Tim McConn, DPM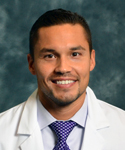 My name is Tim McConn and I was born and raised in Tulsa, OK.  I attended undergrad at Baker University on a baseball scholarship where I served as a team captain. Spending the majority of my life as an athlete and suffering multiple sports related injuries, I knew I wanted to devote my career to healthcare working as a physician. However prior to medical school, the unexpected opportunity presented itself to work as a distal extremities sales representative for Arthrex.  The time I spent with the foot and ankle surgeons during those three years sparked the high level of passion I have for foot and ankle surgery.  During medical school, Dr. Lowell Weil Jr. and Dr. Michael F. Bowen were an absolute inspiration and an integral part for the high expectations I have set for my career in medicine.  As a goal oriented and driven person, I had set my bar to attend the West Penn Foot and Ankle residency program merited by the rich tradition and distinguished training I would receive.  I am beyond privileged to have the opportunity to join a family with such solid foundation and a pedigree that will not only provide benefits during my training, but also throughout my career as a foot and ankle surgeon.
Sham Persaud, DPM
Hello, my name is Sham Persaud. I was born in The Pas, Manitoba Canada, but was fortunate enough to have grown up in Bradenton, Florida. Upon graduating with a Bachelor's degree in biology and a Minor in chemistry from Saint Leo University, I started my path to becoming a foot and ankle surgeon at Scholl College of Podiatric Medicine, where I finished my DPM degree along with a Master's in Healthcare Administration and Management. I am an avid sports fan, Go Pats! I also enjoy golfing and white water rafting. I am very excited to start my residency at West Penn Foot and Ankle Institute and continue learning from the great attending's here.
---